Winter Tight Review:
Adidas Adistar Windproof Tights
These are my favorite winter tights. The Adidas Adistar Winter tights are cut looser than most other tights. They are windproof in the right areas and are not bulky. The thin fleece fabric does not feel like they'd keep you warm but they do by keeping the chilly wind off your thighs, knees and shins. The 4-way chamois is nothing spectacular and suits my preference of less-bulky chamois pads. They did take a few rides to adjust to the pad and tend to bunch at times causing the "sit-up and pick" routine during a ride. When the temps get below freezing, I've worn knee warmers underneath just for added warmth. My current pair are on their 3rd winter. MSRP at the time was around $100. These tights paired up with the Adidas Adistar winter jacket and you're set for those blustery 30 degree base mile rides all winter long.
Castelli Cardio Bib Tights
I just recently picked these up off of
Chainlove
for cheap. Not having worn Castelli before, I didn't realize they were cut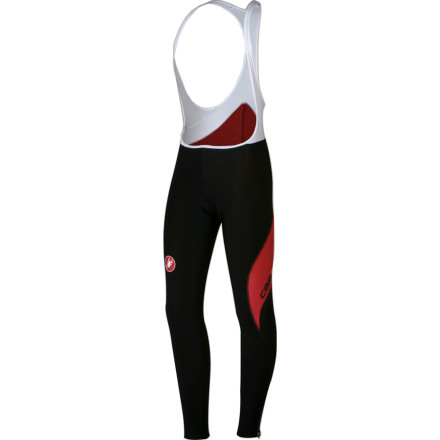 Euro size. The medium I ordered fit more like a small in other brands but I'm able to still squeeze my legs into them (top portion is another story - keep reading). The unique feature of these bibs are the bib design. The straps are not like traditional bib design. The front part of the bib is removed and the straps wrap on top of the shoulder and follow the outline of your lats. The marketing claim is that it opens up your torso for more movement. Since my tights ran small, the straps were almost impossible to wrap around my shoulders when I first put them on. After my first ride, the straps left large red marks on my shoulders (think bra straps red as my wife described it). Another set of washing and riding and they still we're too tight and uncomfortable. They also felt like they were restricting my breathing but that can be lack of fitness at this point of the year. After a few rides I realized I had to do a pre-ride stretch of the straps prior to putting them on. This alleviated alot of the tension and will continue to stretch them prior to each ride and after each washing. I also went to the fabric store and bought $.20 of elastic to modify the straps if I needed to.
The chamois is fantastic - not too thin and doesn't bunch. They claim the chamois keeps your temp (down there) at a 98 degree range. I wasn't about to plug any thermometers anywhere down there but they did feel cooler than other winter tights.
Champion System Fleece Bib Knickers
If your team kits come from Champion Systems, you know they are not the high end of kits. However, the bib knickers are fleece lined and the chamois pad is decent. The bib straps are very comfortable. I like these on those 50-60 degree days in the fall/winter/spring and mountain biking in the winter.







Performance Ultra Bib Knickers
(Discontinued)
Performance house brand Ultra line of shorts are my favorite shorts to ride in. When they came out with the knickers a few years back, I picked them up on sale ($50). The knickers have a heavier lined material than their Ultra shorts but are not fleece lined. They still give you the compression and warmth when riding in cool conditions. These are my go to bottoms in the 60 degree days when not wearing the team kit.